Search Spares and Accessories
Elna Embroidery Hoops & Attachments for 8100
Embroidery Hoops and Attachments to fit ONLY the Elna 8100.
Elna 8100 Clothsetter | E856402003
Elna Clothsetter to accompany the Elna 8100. Please note: This item cannot..
Elna 8100 Small Hoop | E856401002
This small hoop is perfect for embroidering those very small areas and items such..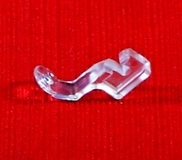 Elna 8100 Embroidery Foot P
This is the replacement embroidery foot P for the Elna 8100 Embroidery Machine. &..
Embroidery hoops are the most important accessory you will need for your embroidery work, your finished piece of art depends upon choosing the right embroidery hoop and embriodery foot. Elna 8100 is one of the most used embriodery machine, as you can make thousand of design with a single mahcine. At GUR you can buy all the necessary spare parts and accessories for your Elna 8100 you can have Elna 8100 clothsetter, small hoops for your Elna machine, Elna ebmroidery foot and much more for your machine.