Search Spares and Accessories
Elna Embroidery Hoops & Attachments for Category C
Embroidery Hoops and Attachments to fit the 8600, 8300, 8200.
Elna Spring Loaded Hoop F | E850411007
The Elna Spring Loaded Hoop F, this 5" x 4.3" (127mm x 110mm) embroidery..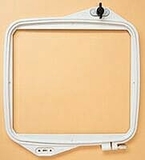 Elna GIGA Hoop D | E850406009
The Elna Giga Hoop D, for use in conjunction with the 8600, 8300, 8200, this..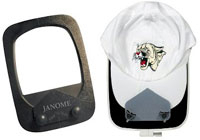 Elna Hat Hoop | E200335003
The Elna Hat Hoop, this accessory provides the needed support to stitch on caps..
Choosing the right embroidery hoop is the most important part in your embroidery project. There are numerous options available online today, but choosing the one which fits your machine is the what matters. At GUR we make sure you get the right embroidery spares for your machine, Elna C category machines require attachments which fits the machine properly. WIth the right tools for your Elna machine you not only get the best quality stitches but also makes works a lot easier as compared to local made hoops. Elna sewing machines wihch supports these hoops are 8600, 8300, 8200.