Search Spares and Accessories
Janome Embroidery Hoops & Attachments for MC11000
Embroidery Hoops and Attachments to fit the Janome Memory Craft 11000 and 11000 SE.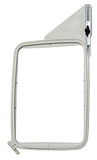 Janome Macro Hoop | 860403007
Janome has a variety of hoops to meet your embroidery needs. From the small..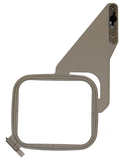 Janome Standard Hoop | 860802000
The Janome Standard Hoop, measuring 5" x 4" (126x110mm) the standard hoop..
Janome Square Hoop | 860801009
The Janome Square Hoop is the best shape for embroidery and measuring 8" x..
Embroidery hoops are the most important accessory you will need for your embroidery work, your finished piece of art depends upon choosing the right embroidery hoop and embriodery foot. Janome MC11000 is one of the best embroidery machine, as you can make thousand of design with a single mahcine. At GUR you can buy all the necessary spare parts and accessories for your Janome MC11000 embroidery machine, we have Janome MC 11000 clothsetter, hoops for your Janome machine which inlcudes rectangular hoop, free arm hoop, standar hoop square hoop etc.