Search Spares and Accessories
Janome Embroidery Hoops & Attachments for MC12000
Embroidery Hoops and Attachments to fit ONLY the Janome Memory Craft 12000.
Janome GR Hoop | 859820000
Janome GR Hoop for 12000. The largest hoop, the huge GR Hoop, gives you 9.1..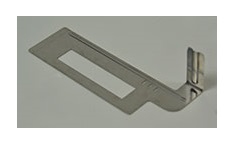 Janome Stabilizer Plate
Janome Stabilizer Plate for 12000. For use with the 9mm Automatic Bottonhole..
Janome Memory Craft Clothsetter | 859439008
Janome Memory Craft Clothsetter. This unique tool enables embroidery designs..
Right sewing components means expected results, embroidery hoop plays an important part in your overall embroidery project. There are numerous options available online today, but choosing the one which fits your machine is the what matters. At GUR we make sure you get the right embroidery hoops and attachments for your machine, Janome MC12000 machine require attachments which fits it properly. With the right embroidery hoop for your Janome embroidery machine you not only get the best quality stitches but also makes works a lot easier as compared to local made hoops. We stock Janome hoop FA10, Janome GR hoop, Janome SQ14 hoop, Janome SQ23 hoop, janome stabilizer plate, Janome MC12000 cloth setter.