– and it arrives fully assembled!
"Shut the doors and it hides your machine away in a beautiful cabinet. No one would ever know!"
Check out this remarkable sewing cabinet – available from GUR.
The Horn Gemini XL sewing cabinet is fitted with a 3 step push down release air-lift mechanism which means a quick push down moves your machine from storage to flatbed to free-arm.
The maxi-lifter opening is capable of taking virtually all domestic sewing machines on the market old or new!
A work area at the back of the machine prevents the needle drag that can happen with large projects. It lifts up easily when needed and down when not (so it doesn't have to be open all the time).
The Horn Gemini XL has a very sturdy gate leg design with quilters and patchworkers in mind – but it's ideal for all sewing projects – especially with the wonderful unique slide-out extra storage feature.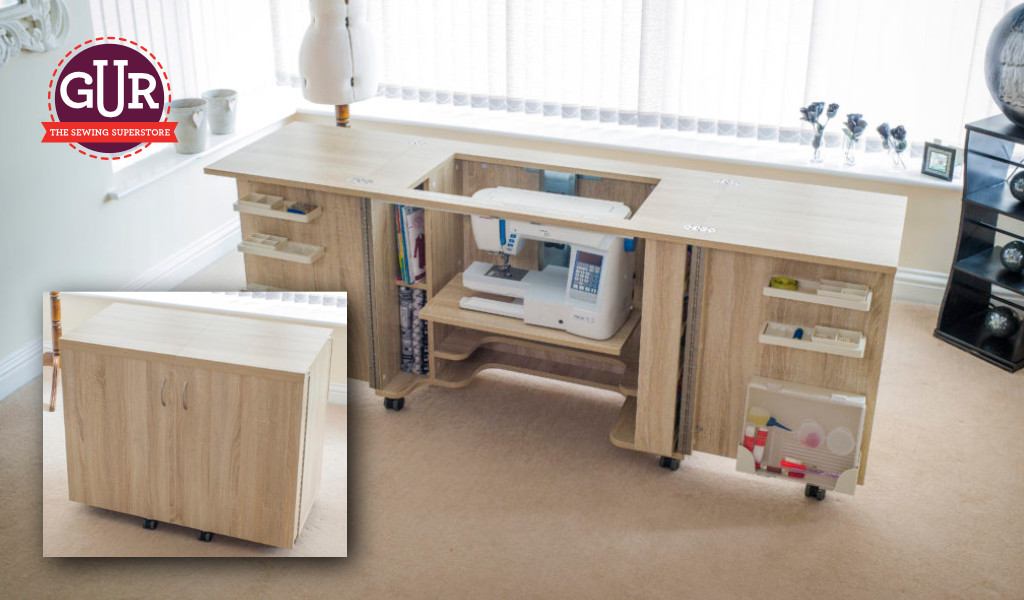 Perfect for every craft room
It comes with a choice of four different finishes, ensuring that you have the perfect look for your craft room.
Beech
White
Weathered oak
American grey oak
Video courtesy of Horn.
---
We love sewing machines – check out the GUR range of sewing machines, including Brother, Elna and Jaguar!
Telephone 0121 359 5335 or email GUR Sewing Machines now!